Details

By

Nathan Y. Hayashi

Nathan Y. Hayashi
In Canada we are faced with similar issues as the US in our backcountry. One of the main issues is trail closures In correspondence from irresponsible Motorized vehicle usage. In 2009, Nathan Hayashi of Calgary, Alberta decided to start a Toyota specific 4WD association, which would provide Toyota owners a place to learn technique and explore the Canadian backcountry.
Details

By

Jeff Blackwell

Jeff Blackwell
Spring has finally arrived in Colorado, well the Denver area at least. With everyone antsy to get back on the trail it seemed proper to call together a "Mod Day". On the first weekend in April about 12 trucks came together to "Do Work". The weather was perfect, I got sunburn, and the mods were coming together like we were all seasoned veterans though there were a couple people who were new to the world of Tacoma's you would have never noticed.
Details

By

TCT Magazine

TCT Magazine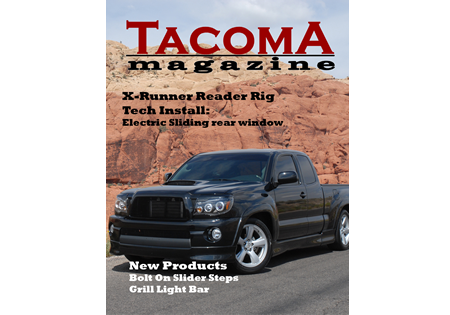 Tacoma Magazine Volume 1, Issue 2!
Spring is in full swing and we're excited to present the second issue of Tacoma Magazine! This issue is packed with some great information, including our cover story: An X-Runner Reader rig! From there we're also featuring an FJ Cruiser Transfer Case Swap, an electric rear sliding window, and a few new products! We also have an update from on the CT4WD Clubs Eco Efforts. All this & more awaits you in the May issue of Tacoma Magazine!
You can download the PDF of this Issue here: