Details

By

TCT Magazine

TCT Magazine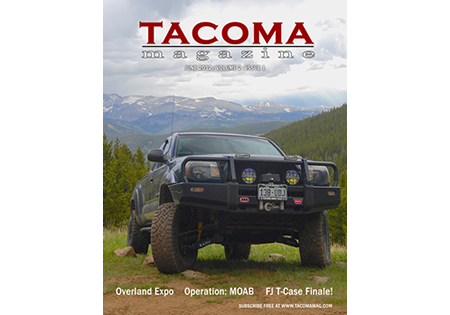 Tacoma Magazine Volume 2, Issue 1!
We're so excited for this issue of TacomaMag! Not only do we have coverage from two great events (Operation Moab & Overland Expo 2012), but we have the finale of the FJ Cruiser T-Case install from Wyatt and more!
Make sure you see some of the sweet Expo Tacos our new Managing Editor Jim Akers got photos of last month. We have a couple of great new products from Ricochet Off Road and Bubba Rope, and a full install write up on B.A.M.F. LCA skids!
Checked out Expedition Overland yet? If you haven't make sure you do! We have pics & info on their now infamous first gen Taco. There are also a few surprises in this issue, so check it out now!
Do you have a great article, anecdote, or hot Taco pics? We want to hear from you! We're already planning our next issue, so contact us on Facebook to submit your stories & photos!
Until next time: Tread Lightly, Stay the Trail, and Have Fun!