The entire line of LR UCA's are now available with Zirk fittings so you can grease the ball joint!
Key features of the new design include:
Maximize clearance for oversize wheel/tire combinations
Return drivability with ±2.0° camber and ° to +4.0° caster adjustability
Extend droop travel with 80° ball joint articulation and free pivot bushings
Upgrade to a greaseable sealed ball joint for OE grade performance with SPC's new design
The new UCA's also include SPC's SpecRide™ Proprietary Bushings for even more performance.
Find the right part for your rig on the SPC Website.
Available applications: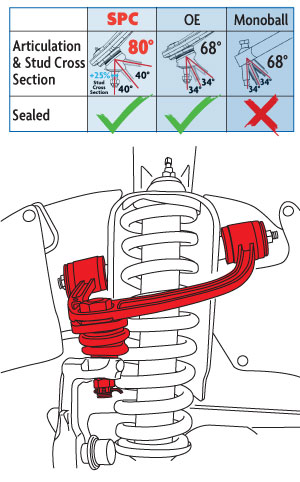 Lexus:
1998 - 07 LX470
2008 & Up LX 570
2003 & Up GX
Toyota:
1998 - 07 Landcruiser 100 Series
1998 - 04 Tacoma PreRunner
1995 - 04 Tacoma
1996 - 02 4-Runner
2008 & Up Landcruiser 200 Series
2005 & Up Tacoma PreRunner
2005 & Up Tacoma
2007 - 14 FJ Cruiser
2003 & Up 4Runner
2001 - 07 Sequoia
1999 - 06 Tundra
2007 & Up Tundra
2008 & Up Sequoia