After popping the hood some of the bigger changes for the 2010 FJ Cruiser become very apparent. The newly redesigned engine looks very different. One issue we found on our initial trail run is that the engine cover is no longer bolted down. Instead Toyota is using simple clips to allow the cover to pop off more easily. This is a great convenience feature if you're doing any major off road driving.
The oil filter has been moved and changed to a 'cartridge' type. This change from earlier models has not been a welcome change since it's a little more complicated to change the filter. The idea is that since you're just changing the filter paper, there will be less waste & it will be better for the environment. While we understand this concept, we can't help but think that Toyota is hoping this will increase their in-dealership oil change revenue.
The other major change in the engine compartment is the windshield washer fluid reservoir. It's been moved down below the engine compartment and a long filler neck has been added. While at first this doesn't seem to be a big deal, if you're considering a front bumper, this change will leave the bottle exposed on the passenger side( on most aftermarket bumpers). Buying a bottle for a '07-'09 FJ Cruiser may solve this problem, but that has not been confirmed yet.
Small changes in the suspension system (most likely to improve turning radius) have not really affected the ability to lift the 2010 FJ Cruiser. Toytec Lifts has confirmed that their kits fit just fine on the new model. They did have to make a change to the swaybar relocation adapter that's included in some of their kits, but this was minor. We've not heard from other vendors yet, but we assume most other kits will work just fine as well.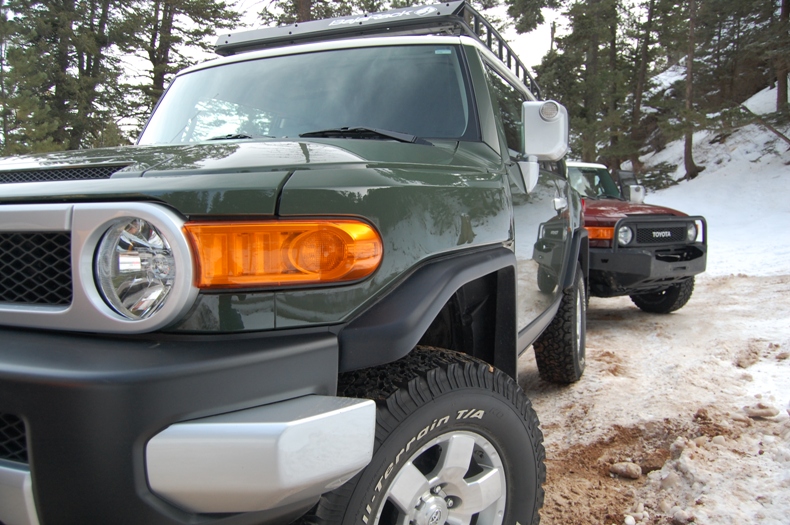 While the new FJ Cruiser sports a slightly more robust stock skid set, many enthusiasts will still want a heavy duty upgrade. Due to a change in the mounting method on the front skid plate, some aftermarket skids for earlier model FJ's won't line up properly on the '10 models. Every vendor we contact is already working on a fix for this issue, so we expect to see 2010 front skid options available soon.
We're very excited to see many new 2010 owners around the community. Sales for FJ Cruisers are climbing at a steady rate, so hopefully Toyota decides to continue production of this modern day classic. The '10 models look & perform great and we can't wait to see them on the trails next year.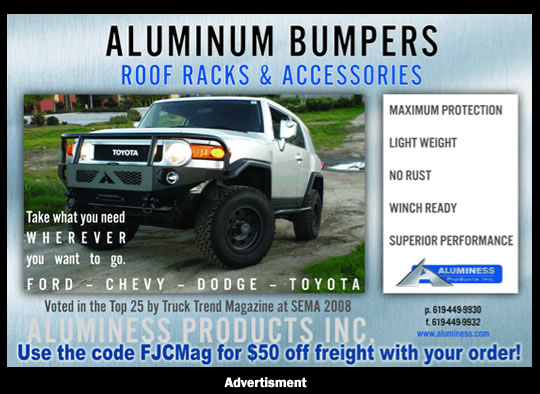 Free Subscription!
{jform=6}
{tab=More Photos}

{gallery}/issues/2010/jan/2010_Army_Green_FJ_Cruiser/{/gallery}

{tab=Your Thoughts}

{rokintensedebate}

{/tabs}