Details

By

Jim Akers

Jim Akers
The FJ Summit is no longer just for FJ Cruisers, that's for sure and it was a great event as usual. Attendance, enthusiasm, and the number of beautiful rigs were at an all time high. I love the fact that, more than at any other event that I have been to, you see families hanging out and having fun together in one of the most breathtakingly beautiful places on the planet. It was a lot of fun for the kiddos to see friends that they only get to see at these events as well. The weather this year was a wild mix of beautiful sunshine to torrential downpours, with bits of hail thrown in for good measure.
Details

By

TCT Magazine

TCT Magazine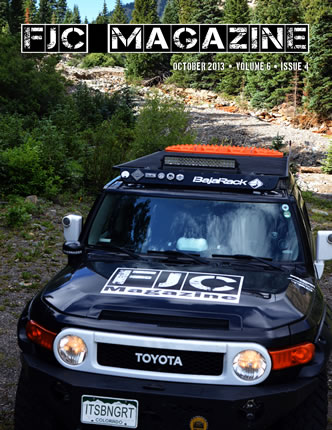 This is a bitter sweet issue for FJC Magazine, as it's the last time we'll publish with this cover logo. We're excited for what comes ahead, but we will miss the close knit FJC-Only community.

With that being said, we've got an amazing issue ready for you! Of course we have full FJ Summit #7 coverage, Beau has a great collection of gear for your holiday buying pleasure, Paul went to Rubithon this year & has some great pics for us. We also have coverage of the 2013 Thrill on the Hill event from our new 4Runner Managing Editor Phillip Jones, and a little event called CruiserFest from publisher Shane Williams. ALL that, and a Manley ORV Explore Update, a few words about TCT Magazine, and more great FJC coverage. Get your copy NOW!
Until next time, Tread Lightly, Stay the Trail, and HAVE FUN!
To get your copy of the October 2013 issue of FJC Magazine:

FIND US ON:




Details

By

Shane Williams

Shane Williams
Between Tacoma Magazine and our trips, we've put over 4,000 miles on the MORV Explore this summer. It's been to Moab twice, Ouray via some amazing trails (See September Tacoma Magazine), Arizona twice, and all over Colorado. Last week I pulled the trailer into the garage for a little autumn cleaning, and to think about what's next for this beauty.
After getting a substantial amount of gear out of the trailer, I noticed a few things:
First, the outside of the trailer looks like it rolled off the showroom floor, except for a little rubbing on the panel facing the tongue. This came from about 2,100 miles of strapping a storage box to the front. The box held fine and served its function, but left a nasty bit of rash on the trailer. A little touch up pain & it'll be just fine. A permanent tongue box will eliminate the need for a strapped down box.