2014 CruiserFest – Recipe by Beau & Krista Johnston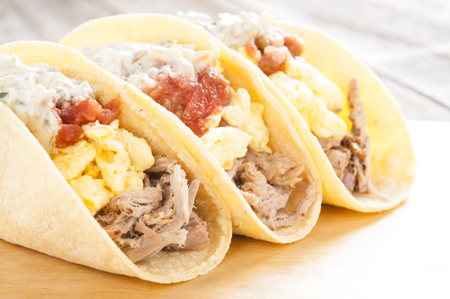 The beauty of this dish is the simplicity of the Roasted Pasilla Cream Sauce; which can be prepared ahead of time and pureed in a blender, for a smoother consistency, or prepared in the field for a more rustic consistency. Pasilla chilies, also known as poblano chilies, can be found in most grocery stores and are identifiable by their shiny, dark green color and heat-shaped profile. Pasillas produce a mild heat when cooked and are as versatile in their use as this cream sauce is.
Ingredients:
• 1 tablespoons (1/8 stick) unsalted butter
• 1/2 cup chopped onion
• 1 pasilla chile, charred, peeled, diced
• 1/2 cup heavy whipping cream
• 1/3 tsp salt
• Dash of pepper
• 8 – 6 inch corn tortillas
• 1lb pulled pork
• 6 eggs – scrambled
• 1/2 cup Pico de Gallo
Serves 4

Directions:
Melt 2 tablespoons butter in heavy large skillet over medium-high heat. Add the onions and cook until translucent, about 4 minutes. Add the diced pasilla chile and cook for 1 minute to blend flavors. Add the heavy cream and bring to a boil. Reduce the heat to medium and simmer until reduced and the cream coats back of spoon, about 6 minutes. Transfer the sauce to a bowl and let cool. Makes 3/4 cup of sauce.
Assemble the tacos by placing 2 oz of pulled pork onto a heated tortilla and top with scrambled eggs, 1 Tbsp Pasilla Cream Sauce, and 1 Tbsp Pico de Gallo.
[flickr set=]
To get your copy of the

October 2014 issue of TCT Magazine:

FIND US ON: