January 2013 | Volume 6 | Issue 1
Details

By

Shane Williams

Shane Williams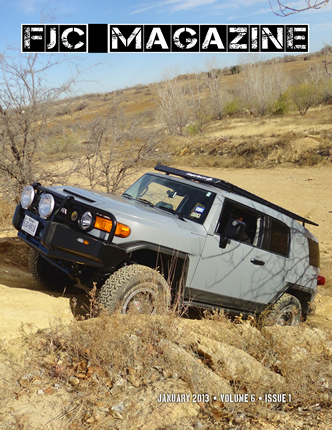 Just in time to start the new year off right! Our sixth year of publication is upon us and that means it's time for the January 2013 issue of FJC Magazine! This issue is HUGE with tons of great content, including Jacques brand new 2013 Trail Teams Edition (modified courtesy of TRDParts4U), FJ Summit Caribbean coverage, ideas for your first $3k in mods, SEMA 2012 coverage, Springtail Solutions new MPAC FJ MSM Drawer, a National Luna Dual Battery Management system install (thanks to our friends at Equipt), and more!

We're very excited to launch the latest issue of this great magazine in with 40 pages packed with FJC, 4WD, and overland articles, tips and tricks. Click the download button to check it out!
Until next time, Tread Lightly, Stay the Trail, and HAVE FUN!
To get your copy of the January 2013 issue of FJC Magazine:

FIND US ON: