January 2010 (11)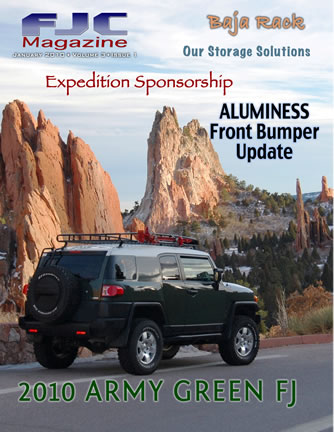 Our featured story for this issue is the 2010 Army Green FJ Cruiser. We caught up with one of the first sold for a trail run & some great pics. We've got all the details on the major changes for the 2010 Toyota FJ Cruiser, so checkout page 6.
Taft Babbit is back with his take on the new BajaRack basket for the stock FJ Cruiser rack. This time Lance from Disabled Explorers is discussing Expedition Sponsorship, so if you've been thinking about it – he's got some great tips for you.

In this issue we're introducing a new contributor. Our long time friend & colleague Erick Pound, founder of AdventureInsider.com has a great introduction to adventure travel. He'll be contributing to FJC Magazine regularly discussing adventure related topics.

Of course we've got a sweet Featured Rig, a couple of Reader Rigs, and your FJ Nation pics on the back cover. We also upgraded our storage solutions in the TRD, check out those details on page 22. Also don't forget our New Products, an update on the Aluminess Front Bumper, Groups & Clubs, and upcoming FJ Cruiser events as well.
We hope you enjoy the January 2010 issue of FJC Magazine!