Details

By

Shane Williams

Shane Williams
When we talk to new FJC owners, one of the most common questions is how to change the look of the truck while adding a performance. Of course a lift kit, tires, and bumpers are all valid options. However for the relatively small investment, fender flares are certainly one of the best options. Flares can significantly improve the look of your truck while adding room for larger tires at the same time.
There are a few options for flares available, everything from basic 'OEM style' flares to full tube 'flat' flares. We wanted a little more aggressive look so we sourced a set of Pocket Style Fender Flares from Bushwacker. These are by far the most popular flares for the FJ Cruiser, and for very good reason: they look great!
Details

By

Shane Williams

Shane Williams
Have you tried to find an FJ Cruiser Powerwheels lately?
When the FJ first came out, the black FJC Powerwheels was available at nearly every Walmart, Target, or toy store. Today, there is exactly one listed on Amazon.com and it's selling for nearly $800. Not exactly a great option. Of course you can, if you look around enough, find a purple & pink "Disney Princess FJ Cruiser". That's wonderful if you have a little girl, but our boy just wouldn't look right rolling around in a pink FJ.
So what does a crazy FJ Daddy do? He buys the Disney Princess FJ Cruiser and mods it, of course. Had I known how much time and effort would go into this project I may not have done it. Ok, I admit it, I totally would have. While it's been a lot of work so far, transforming the Disney FJ into a mini replica of our '07 TRD has been a great project even though I may never been done with the mods for this FJ either.
The process started with disassembly. Initially, I planned to just remove the 'main' body parts and paint the rest Black Diamond to match our truck. Of course once the screws started coming out, one thing led to another until we had virtually every removable part off of the truck. Luckily all the screws are the same size so they all went into one bin and re-assembly wasn't too bad.
Details

By

Shane Williams

Shane Williams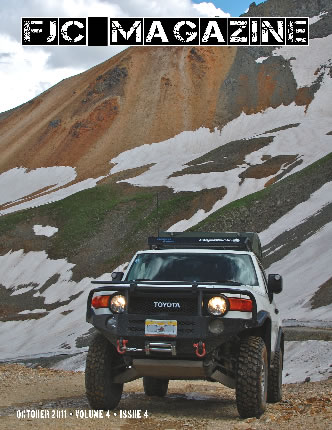 The colors are changing on the aspens here in Colorado, so that must mean it's time for the October issue of FJC Magazine! We've got another amazing issue ready for your viewing pleasure. Some of the choice FJC articles we have for you include the 2011 FJ Summit (of course), as well as the 2011 SedonaFest event! We test drove the XPLORE FJ Cruiser, built a PowerWheels "FJC Mini" and installed Bushwacker Pocket Style Flares. We also tested out the LiftTrax recovery devices and FunTreks new Data Cards for GPS units. It's been an amazing summer & we're looking forward to a little Fall Fun, now that this issue is in the books.
So sit back, pour yourself a cold one, and enjoy the October issue of FJC Magazine!
To get your copy of the October 2011 issue of FJC Magazine:


Until next time, Tread Lightly, Stay the Trail, and HAVE FUN!
FIND US ON: