BF Goodrich and Ford have stepped up in the recent years to provide endless entertainment options outside for attendees. BFG is always a favorite with the lineup off Baja 1000 trophy trucks on display. Ryan Millen and the Toyota race truck that took top spot in qualifying for the upcoming 2016 Baja 1000 was a great sight to see. They even had a pit crew challenge which gave participants a chance to come home with two sets of BFG tires for the fastest time. If you like drift cars, Ford will take willing participants on an adrenaline pumping ride on the track laying down tire smoke everywhere the Mustang or Shelby goes. They even include a jump in the middle for those wanting a lap in a built Raptor which will take participants up and over for a little hang time. picture- "BFG" - BFG's corner has a wide assortment of well built trucks on display.
SEMA is not only a place for auto enthusiasts to drool over incredible builds and meet some of the top names in the industry, it's also a place for engineers, fabricators and manufacturers to showcase their hard work and dedication. While many of us are out on the trails putting our gear to the ultimate tests, these hardworking individuals are constantly thinking of ways to improve the products we love. Whether it's Superwinch revealing their new winch with 8 patent pending new technologies or the Onyx group developing a direct bolt on electric powerplant, motor and transmission for the JK platform. There's always the much-anticipated armor and suspension updates like ARB, Warn and TJM revealing front and rear bumper options for the 2016-2017 Tacoma as well as Bilstein and King revealing redesigned front and rear suspension components for the same platform. And who can forget the lighting developments with Baja Design's high output light bars and Rigid Industries led system that will adapt to your speed going from flood to spot beam the faster you go. picture- "ElectricMotor" - On at the inside booth for ProComp was a bolt in electric motor and drivetrain for the JK platform.
As I cannot do justice to the amount of new development that we saw at the 50th anniversary of SEMA this year, you will have to enjoy some of the highlights from our experience from this year's show and stay tuned for many great features in TCT Magazine showcasing some of the great product releases for our Toyota platforms.
[flickr set=72157679071282485]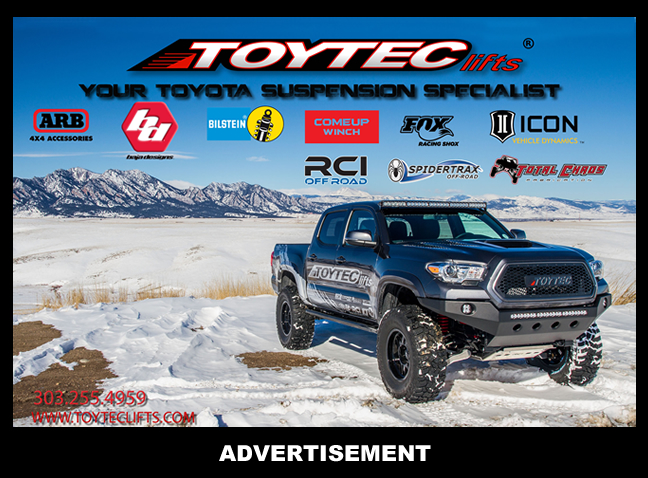 To get your copy of the
Fall 2016 Issue: